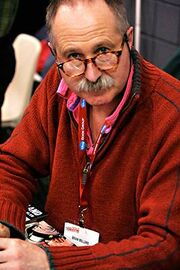 Brian Bolland
is a British comics artist that has worked for multiple publications throughout his life, with his best known work being DC's 'The Killing Joke'. A lot of his early work was with
2000 AD
in which he drew several full page strips, however these days he mostly sticks only to cover duty.
Characters, Concepts and Strips created by Brian Bolland
Edit
Ad blocker interference detected!
Wikia is a free-to-use site that makes money from advertising. We have a modified experience for viewers using ad blockers

Wikia is not accessible if you've made further modifications. Remove the custom ad blocker rule(s) and the page will load as expected.